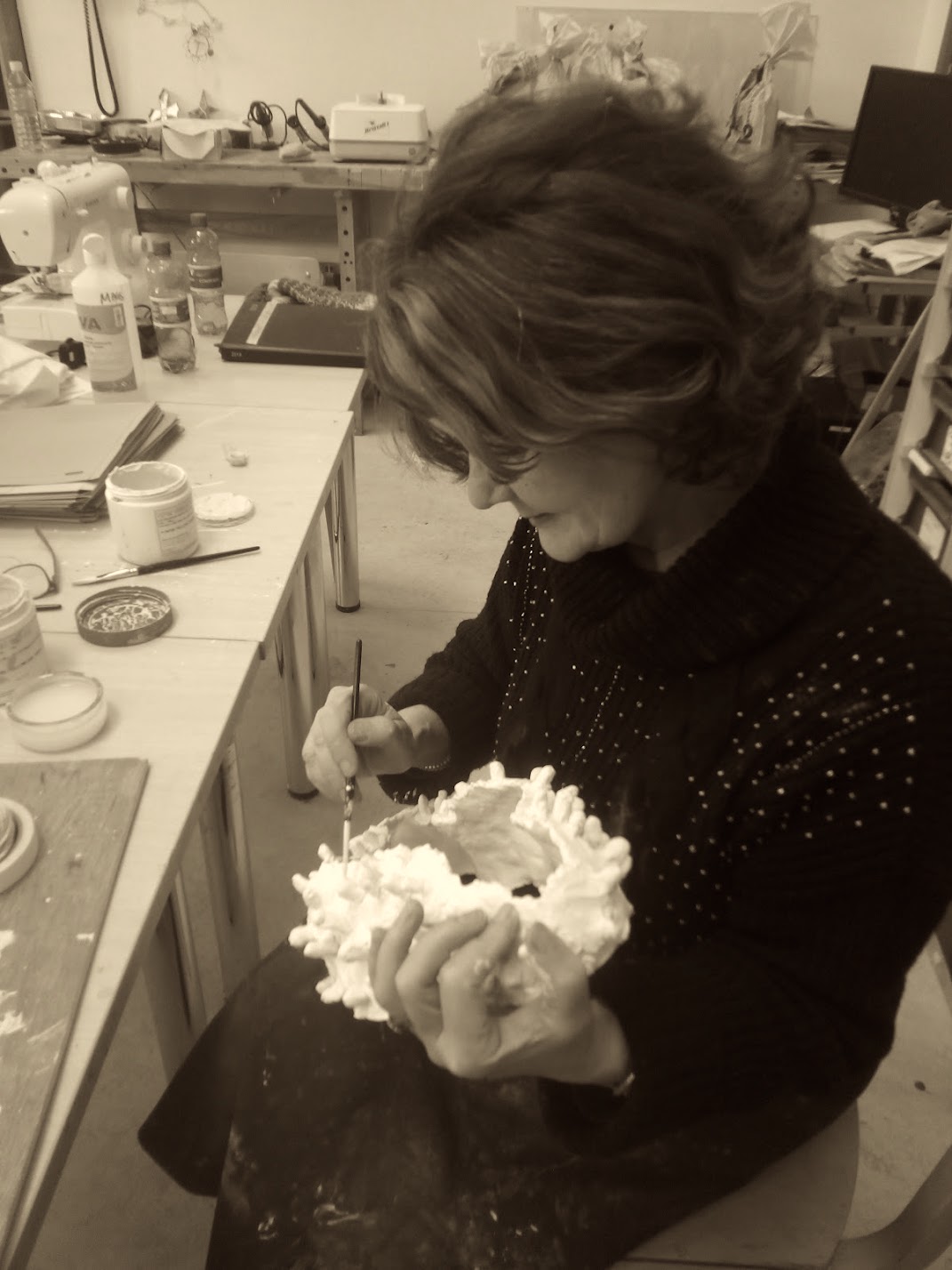 Margaret Fitzgibbon uses a broad variety of materials to continuously expand and evolve a body of work that includes sculpture, collage drawing, and textiles. Her subject matter is broad, taking in the human, plant and animal world, memory, mythological and feminist themes and forgotten female historical figures. These diverse artistic investigations are driven by intensive research, but the end result is always deeply personal and subjective. Her works address fundamental questions about the constraints of the on going search for selfhood and to find meaning to the world we inhabit.
Fitzgibbon has had numerous solo exhibitions in Ireland and abroad. Her work is in many state collections including: The Arts Council of Ireland; Cork City and County Archives; Cork County Council; University College Cork; The Women's Centre, Derry, Northern Ireland; Áras an Uachtaráin – the Irish President's Residence Dublin.
She has won numerous awards for national and international projects including:
2020/19/18/17 Dublin City Council Arts Grant;
2012 Dún Laoghaire Rathdown, Co Dublin Arts Office – Professional Artist's Training Award;
2006 Arts Council of Ireland Professional Development Training;
2005 European Capital of Culture Cork, Artist Residency and Exhibition – Kerala-Mumbai – Bangalore – Ireland;
2005 Arts Council of Ireland Travel Award; 2005 Dept. of Arts, Sport and Tourism Travel Award Cultural Relations Office Bursary;
2004 Cork Co Council Arts Office A/C Commissions Award.
She is an adjunct professor at Marino Institute of Education Dublin and a part time tutor at The National College of Art and Design, Dublin. She is currently preparing for a large solo show in Ireland in 2023.
Margaret Fitzgibbon lives and works in Dublin
EDUCATION
2014
PhD (Sculpture – Installation) National College of Art and Design, Dublin
2008
MFA Fine Art (Sculpture – Installation) National College of Art and Design, Dublin
1985
BA Fine Art (Sculpture/Printmaking) Crawford College of Art and Design, Cork
CURRENT & FORTHCOMING EXHIBITIONS
2023
Solo Show Mermaid Art Gallery, Bray, Wicklow, Ireland
2021
Still life Vinilonga International Short Film and Music Festival, Buenos Aires, Argentina – Watch here
2021
Gaslighting, Graphic Exhibition highlighting Domestic Abuse during Lockdown: Seas Brighton Gallery, Bristol,
UK
SOLO EXHIBITIONS
2020
Sheltered Domestic Online Exhibition, Gallery Lane Cove, Sydney, Australia (with in-depth artist interview)
2019
Kitty Dear Dear Kitty, large-scale, site specific, mixed media installation, Michael Collins House, Cathal Brugha Barracks, Dublin, Ireland
2018
Evaluating Evie, An exhibition of research materials including: hand-made notebooks and a series of 7 x large drawing/collage biographical drawings based on the life of Irish Modernist Painter, Evie Hone, The Officers' Mess, Cathal Brugha Barracks, Dublin, Ireland
2018
Maypole, A large-scale, sculptural installation, Cathal Brugha Barracks, Dublin, Ireland
2017
Still life, a large-scale, drawing installation in collaboration with Women's Refuge Rathmines, facilitated by The Dept. of Defense, The old Archives Building, Cathal Brugha Military Barracks, Dublin, Ireland
2017
Witness, a large-scale, drawing installation ongoing the ante room of The Old Archives Building, Cathal Brugha Military Barracks, Dublin, Ireland
2016
Echoes of Hanna, Large-scale, site-specific, sound and sculpture installation, voiced by artist Olwen Fouéré, The original old guards room, cells and yard, Cathal Brugha Barracks, Dublin, Ireland
2014
Reflections on a Family, Archive, Pallas Studios and Gallery, Foley St, Dublin
2012
Transient Retrieval, The Warehouse, 35 Barrow St, Grand Canal Docklands, Dublin
2010
Archival Cabinets, Sculptural Installation, First International Home Movie Conference, University College Cork, Ireland
2006
Holdings, City and County Archives Building, Cork, Ireland
2004
Hortus Conclusus, Bourn Vincent Gallery, Limerick University, Ireland
2002
Hortus Conclusus, Crawford Municipal Art Gallery, Cork, Ireland (2nd iteration)
1995
Going back inside, University Collage Cork, Ireland
1990/92
One that always Remains, Triskel Art Centre, Cork, Ireland and touring to…
Limerick City Arts Gallery
Galway Arts Centre
Gallerei Allerei, Amsterdam, The Netherlands
1989
Art Propos Gallery, The Hague, The Netherlands
SELECTED GROUP EXHIBITIONS AND WORKSHOPS
2020
Collaborative kite making workshop as part of an Artist in Residence with NOVAS refuge of homeless women to celebrate International Women's Day, Cathal Brugha Barracks, Dublin
2019
Unseen Selected Artist for Group installation Irish Folklore Museum, Co Mayo Ireland
2018
Art and the Vote: The visual culture of the Irish Women's suffrage campaign, Luan Gallery, Athlone, Ireland
2018
A Homage to Local and International Artist Evie Hone – Modernist Trailblazer' to coincide with International Women's Day A day long series of lectures, talks, film screening and pop up exhibition from a local school to celebrate International Women's Day: Poet Paula Meehan; Dr David Caron; Stratford Secondary School; Comdt. Laura Fitzpatrick and Sgt. Amy Hopkins, Officers Mess Hall, Cathal Brugha Military Barracks, Dublin
2017
Through the Looking Glass' Arts Council of Ireland, Artist in Prison Award – Sculpture Workshop – Arbor Hill Prison, Dublin
2016
Getting up Close to Nature, Arts Council of Ireland Artist in Prison Award – Sculpture Workshop – Arbor Hill Prison, Dublin
2015
Wild-screen, Weekend of Screening Experimental films and talks, Inagh Valley, Connemara, Galway
2014
Lux 13′, The Laban Center, Deptford London, LUX Critical Forums from Dublin & Glasgow, Invited artist; Group Experimental Film Screening Event, Film title P.45 – Watch here
2014
We All Live On the Same Sea Sirius Art Centre, Cobh, Co Cork, Ireland (with 'Artist's Residency' in 2011 Sirius Art Centre, Cobh) Curator, Rana Osturk
Film Screening, (Experimental Film Club) Templebar Galleries, curator Cleo Fagan
2008
Our Friends Are Electric, Film Projections, Fed Square Melbourne, Australia
2008
The Coffee Project, Curator Dawn Williams, Temple Bar Gallery, Dublin, Ireland
2007
Gold Star The Loft, Dublin, Ireland
2005
Terminal, Triskel Art Gallery, Curator Cliodhna Shaffrey, Cork, Ireland
2005
Artists' Residency Exhibition, Colab Gallery, Bangalore, India, Curator Suman Gopinath,
2005
Uncovered, Sarah Walker Gallery, with Frieda Meaney and Monika Fabig, West Cork
2005
6×6 For Ireland, 411 Galleries Hang Zhou China, Touring: Hang Zhou, Shanghai, Beijing
2005
Silent Light, Super 8mm Film screening, Cork, Ireland
2004
Raw-Uncooked, Curator Nuala Fenton, Fenton Gallery, Cork, Ireland
2003
Us Live, Guinness Hop Stores Gallery Dublin Ireland
1995
Fabyrka, Show Case Exhibition, Crawford Municipal Art Gallery, Cork, Ireland
1992
Cork Artists Collective, Triskel Art Centre, Cork, Ireland
1991
C.A.C, Annual Show, Crawford Municipal Art Gallery, Cork
1991
Gateway to Art, Aer Rianta Arts Festival Dublin Airport
1989
12th Claremorris, Open Exhibition, Co. Mayo, Ireland
1989
Two-person show, Gallerie Actua, , Groningen, The Netherlands
1987
Half and Half, two-person show, Cork Arts Society Gallery lavitt's Quay, Cork, Ireland
1987
Galway Arts Festival, Nuns Island Art Centre, Galway, Ireland
SELECTED AWARDS
2020 – 2016
Appointed (first) Artist in Residency, Cathal Brugha Military Barracks, Rathmines, Dublin, funded by The Dublin City Council Arts Office
2012
DúnLaoghaire Rathdown, Co Dublin Arts Office, Professional Artist's Training
2006/7
Arts Council of Ireland Professional Development Training Award
2005
European Capital of Culture Cork, artist residency/artists talk-Kerala-Mumbai Bangalore: Suman Gopinath
2005
and Grant Watson Curated Residency
Arts Council of Ireland Travel Award to undertake Indian Curated Residency
2005
Dept. of Arts, Sport and Tourism Travel Award Cultural Relations Office Bursary for Indian Residency
2004
Cork Co Council Arts Office/A/C of Ireland/New Commissions Award Experimental short film
2004
Dept. of Arts Sports and Tourism Ireland artist travel award Lille France – Residency
2000
MAJT Regionale des Affairs Culturelle La Ville de Lille, France – artist's bursary for residency in Lille, France
1999
Arts Council of Ireland/Aer Lingus Airlines Travel Award
1990
Cork City Council Community Award – Mid-Summer Arts Fest
SELECTED COMMISSIONS
2021/22 Kathleen McKenna Commission, Meath Co Council and Supported by the Department of Tourism, Culture, Arts, Gaeltacht, Sport and Media under the Decade of Centenaries 2012 – 2023 initiative.
2006
Percent for Art Commission for The New City and County Archives, Cork Ireland: 8 mm short, experimental Doc/Film and large-scale, wall-mounted box-collage: Value: 20,000E
2005
The Arts Council of Ireland/County Cork Arts Office Commission Award: Site-specific, short experimental 8mm Doc/Film responding to the Dursey Cable Car, W. Cork: Value 5,000E
2003
Scoil Spioraid Naoimh Primary School, Cork, Ireland; Sculpture: A large scale integrated mixed-media, interactive, sculptural playground: Value 25,000E
2001
Percent for Art Commission Mayo County Council, Ireland; Sculpture: Outdoor public, interactive, play-sculpture, residential estate: Value 10,000E
2000
The New Derry Women's Centre, N. Ireland; Sculpture: Site specific sculpture commission, four interrelated bronze Value £8,000 Sterling
1998
University College Cork, Ten Foolish and Wise Virgins, Foyer of The New O'Rahallaig Building; 10 x large Figurative, Bronze Sculptures: Value 30,000E
1999
The Southern Health Board/University Hospital Cork Small wall-mounted, figurative bronze sculpture 3,000E
1997
University College Cork, President's Office, 3 x Small Bronze Sculptures: Value 8,000E
COLLECTIONS
The Arts Council of Ireland 0ffice of Public Works Ireland
Aras An Uachtarain (Presidents Residence) Ireland University College Cork
Cork Co. Council Arts Office Cork County and City Archive
Cork University Hospital, Wilton, Cork Crawford Art Gallery Cork
Gandon Editions, Kinsale, Co Cork Presidents Office, UCC, Cork TyTex (Ireland) Ltd
VF Nathan & Co Accountants, Cork, Roches Stores Retail Dept., Cork,
Private Collections in Holland, England, Ireland